Love Padlocks History - Famous Love Padlocks Locations
Since the appearance of first padlocks several centuries ago, many myths and legends were created around them and their power to protect things from theft. Such myths were created all around the world, but one of the managed to appeared almost everywhere – myth of love padlocks.
Even though majority of love padlock beliefs started to circulate around the world in early 2000s, some of the original myths can be traced several decades to the past. The most famous love padlock myth comes from Serbian city Vrnjačka Banja, where one bridge remains constantly decorated with hundreds and hundreds of love padlocks. This tradition was supposedly created well before World War II when innocent schoolmistress named Nada died from broken heart when her fiancé Relja broke his engagement and married another. From that point on local girls from Vrnjačka Banja visited bridge where Nada and Relja used to meet, and leave padlocks that held the name of the girl and their loved ones.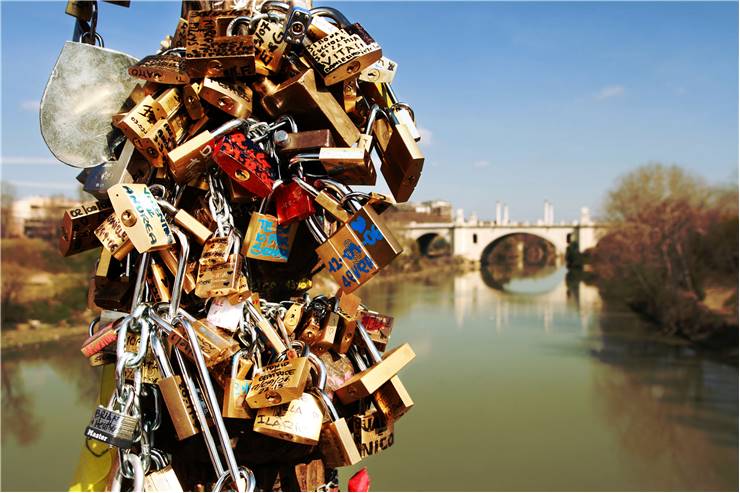 In the other parts of the world, love padlocks that symbolize eternal love between sweethearts are affixed to various objects in our modern environment (fences, gates, bridges or dozens of others public fixtures). The most popular places for leaving love padlocks are on Italian bridge Ponte Milvio and Ponte Vecch Bridge in Florence, German Hohenzollern Bridge in Cologne and Kettenbrücke Bridge in Bamberg, Canadian Wild Pacific Trail, Irish bridge Ha'penny, Taiwan train stations, and many more. Many of those locations represent thorn in the eye of the local governments, who constantly fight against public outrage whenever they try to remove those padlocks.
One of the most famous examples of love padlock customs can be found in the Uruguayan city of Montevideo, where one fountain scripture declares that padlocks with initials of two people can protect their love forever.